Wild Rose Newsletter November 2022
November 18th, 2022
We invite you to join us and Live your best winter at an Optima Living community! If you haven't already, move in before winter so that as you experience both indoor and outdoor activities, your days will be filled with endless opportunities to make memories with friends and family. Click the button below for more information!
---
Word from Wild Rose General Manager
When you hear me say "Live your Best Winter", it is my absolute pleasure to surround the Wild Rose Community in a warm, safe, and cozy atmosphere to do just that!  

The incredible group of staff, family members, friends, and volunteers who support the Wild Rose residents are committed to bringing the joys of winter living; indoors!!  This winter join us for activities such as cookie decorating, ugly sweater day, hot cocoa bar, Wild Rose Christmas Choir, and an indoor resident vs staff snowball fight!

Wild Rose is lucky to have a bus, trips are planned for some scenic view tours and to stay active, indoor walking at the mall. As we prepare for the holiday season, we will embark in spiritual wellness and creating fellowship with the greater community, make sure you look at the Wild Rose Activity Calendar for details.  

We look forward to the season ahead and welcome you all to join us for days full of fun, laughter, and companionship. 

Nadine Ternovoy

Wild Rose
9612 172 St NW
Edmonton, AB T5T 6C7
(780) 443-1234
wildroseseniors.ca
An OPTIMA LIVING Community
---
Meet the Wild Rose Family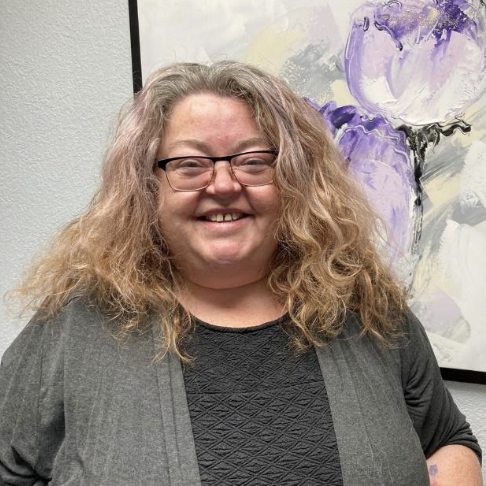 Wendy Brown
Office Manager (AKA Cruise Ship Director)
Wendy Brown joined the Wild Rose family in September of 2019.  She recently celebrated her 3-year anniversary with Wild Rose and she couldn't be happier!  Prior to working here, she was an Office Manager for Greater Edmonton Foundation here in Edmonton, which is a non-profit organization that provides housing to low-income seniors in the Greater Edmonton area. She has always worked in an office since graduating from high school way back in 1990!  She certainly enjoys being the welcoming person we all see when we arrive. 

Wendy was born in Maine, USA and came to Alberta, when she was 9 years old.  She still retains her dual citizenship with the United States although she certainly calls Canada home. She lives with her husband Mark and their two cats in St. Albert, AB.  She has two children, her son Tyler who is 27 and lives in New Brunswick and her daughter Kaitlyn who is 25 and lives in Morinville, Alberta.  Kaitlyn also has a beautiful 2-year-old daughter Olivia, who is the absolute apple of her gramma's eye. 


We got to sit down with Wendy and ask her some questions and here's what she told us!
 
What makes you smile? 
Spending time with my family and friends.  My lively spirited granddaughter makes me smile all the time.  She is an absolute joy. 

What compliment do you most remember?
I was recently told by one of the residents here that I was loved by so many people – more than I realize.  

What do you like most about working here?
Honestly, getting to spend my day with so many grandfathers and grandmothers is such a great reward. They make me laugh every day.  I can't believe I get paid to hang out with these people.

What's something we don't know about you?
I am an accomplished baton twirler – having won two trophies and several medals in my lifetime as a baton twirler.
---
Events
Holiday Season Sing-a-long Watch Party

Our annual Holiday Season Sing-a-long is coming to a device near you. On December 15th @ 1:30 PST 2:30 MTN, visit the Optima Living TV YouTube channel to join in on the fun! 
---

Optima Living TV Episode 3 - Your Space and You
Join the watch party livestream at the Optima Living TV Channel on December 2nd @ 1:30 PST 2:30 MTN.

Seniors' quality of life is impacted by their living environment. Deanna Cable, co-owner of A Step Up Inc, shares tips and tricks on furnishing your suite, decluttering your space, and making your space a home.
---
Be Agile Not Fragile - Health Tip from Dr. Wagg
AHS Chair in Healthy Aging Dr. Wagg shares a health tip about how important keeping mobile is for health and wellbeing in later life. 

Watch the full episode, Maximize Your Golden Years, here.
---
Community Life Reflections
Remembrance Day
One of our residents made the wreath using the artful enrichment wreath design. The poppies are hand painted on paper and cut out.
---
---
Our Chef Scott did not disappoint as he and his kitchen crew whipped up a traditional Thanksgiving Feast for the residents to enjoy on Friday, October 7th. Residents were also treated to an afternoon concert on Monday October 10th with one of their favourite entertainers Jukebox Lee – there was a lot of toe-tapping that afternoon!
---
GERI-ACTOR WORKSHOPS
Hosted workshops over a series of 4 weekends with the Geri-Actors Acting Group.  2 Residents from Wild Rose were given the opportunity to participate, and it was a great chance for them to dive into the world of acting and expand their horizons.

OPTIMA LIVING TV WATCH PARTY
Residents gathered in the lounge to watch the launch of OPTIMA LIVING TV!  Have you had a chance to watch?  If not be sure you do.

OKTOBERFEST
Germany came to Wild Rose on October 20th!  There was German beer and wine, pretzels, sausage, and lots of music by a wonderful accordion player!
---